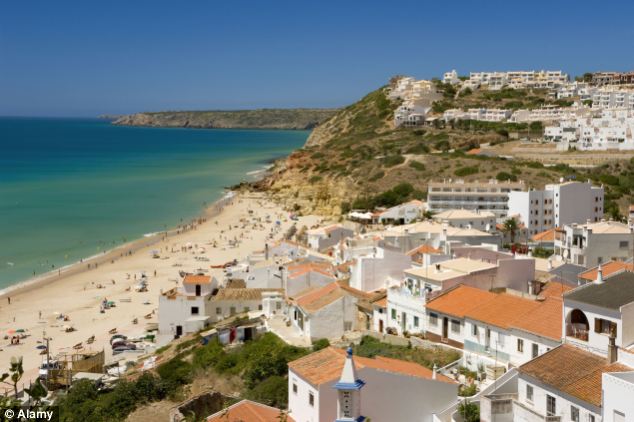 With everything you can eat and drink thrown in, all-inclusive deals are promoted as the most economic way of enjoying your holiday. But they may not always be such good value, according to a survey.
Bed and breakfast holidays where you buy your own drinks and eat out at restaurants can be £700 a week cheaper than a comparable all-inclusive break. A seven-night bed and breakfast trip to the Portuguese Algarve, for example, could be £648 cheaper per couple than an all-inclusive break in the same region where food and drink are part of the cost.
B&B trips to Cyprus and to Spain's Costa Blanca are also better value than all-inclusives. However, those visiting Spain's Costa del Sol, Majorca or Corfu would be better off going all-inclusive.
Bargain: A couple travelling to the Algarve in Portugal could save almost £700 by not going all inclusive
The study by Post Office Travel Money also found that one in six holidaymakers on all-inclusive breaks went out for restaurant meals, at extra cost, to avoid the repetition of eating in the hotel.

Researchers compared the cheapest seven-night B&B and all-inclusive packages for two adults departing from London airports available on June 21 for travel between July 24 and August 6 this year.
Package prices included return flights and three/four-star accommodation for two adults. For B&B packages the cost of evening meals, beer and Coca-Cola was added to provide a comparison with all-inclusive.

The findings showed that those on Algarve B&B deals would pay £857 per couple compared with £1,505 for an all-inclusive package.

In Cyprus, the B&B deal was £144 better than the all-inclusive one, and in the Costa Blanca those on B&Bs would be £5.43 better off.
Savings: But all inclusive breaks in Majorca are better value than paying for meals yourself
An all-inclusive deal was the better option by £54 in both Corfu and Mallorca and by £6.69 in the Costa del Sol.

Of 40 hotels surveyed, 30 excluded bottles of wine from their all-inclusive deals, although house wine by the glass was on offer.

Dates in early July and September were also checked and results were consistent with the July/August findings.

Andrew Brown of Post Office Travel Money said: 'Holidaymakers need to be aware of what is included to avoid getting caught out.

'In some destinations like the Algarve and Spanish Costas, where restaurant prices have fallen dramatically this year, it may be cheaper to book a B&B package and eat out each day.'
Source: dailymail.co.uk