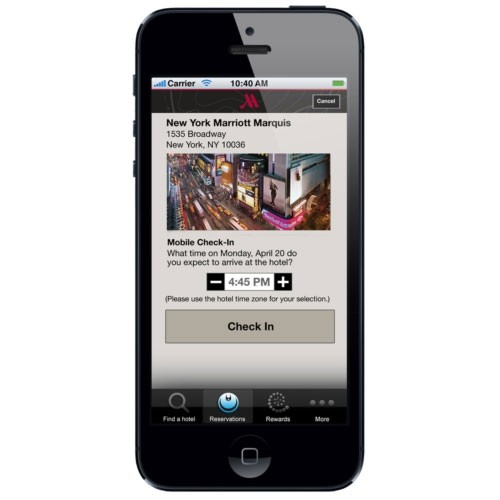 In recognition of its increasingly connected mobile guests, Marriott Hotels, the signature brand of Marriott International , is announcing plans to rollout mobile check-in at 325 hotels in the U.S. and Canada. Now launched at 31 Marriott-brand hotels, mobile check-in will expand to all 325 Marriott-brand hotels later this summer. This will represent the broadest mobile offering of its kind in the U.S. and Canada. According to the consulting firm Hudson Crossing, emerging Gen Y travelers (ages 24 – 36) in the U.S. lead all other age groups in smartphone ownership at 80 percent and travelers in general are more likely to own mobile devices.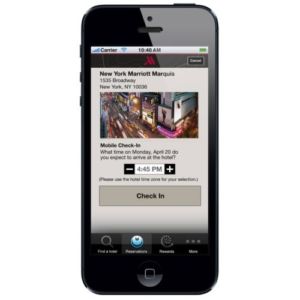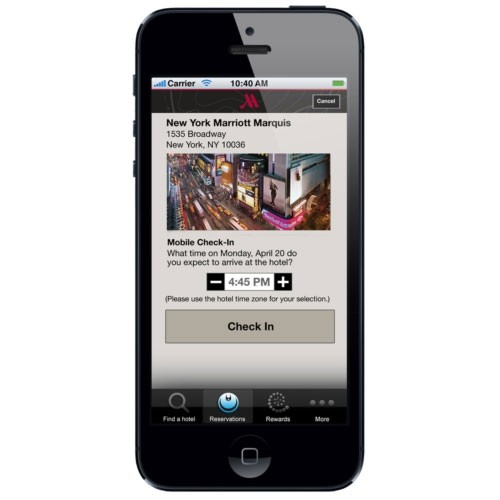 With the Marriott Mobile App, check-in is simple. All Marriott Rewards members can check-in after 4 pm the day before their arrival and will receive an automatic notification when their room is ready. Because credit card information is stored within their Marriott Rewards profiles, members simply walk up to the expedited mobile check-in desk where their pre-programmed key card will be waiting for them. The mobile check-in feature is part of the free Marriott mobile app available in the Apple iTunes Store and Google Play. Learn more about mobile check-in athttps://travel-brilliantly.marriott.com/our-innovations/check-in-app.
"As Marriott developed the app and tested mobile check-in, we engaged customers, asking for their feedback to perfect the experience and learn what mattered most to them," said Paul Cahill, senior vice president of brand management for Marriott Hotels. "Our frequent guests told us they wanted mobile check-in first, using their smartphones, to be widely available. That is what we are delivering as Marriott Hotels continues its journey of envisioning the future of travel for the next generation."
The Marriott Mobile App will not stop at check-in. Future innovations are currently being tested at Marriott's "mobile incubator" hotels, including checkout and guest service requests. As the brand rapidly grows internationally, Marriott also plans to expand mobile guest services outside the U.S. and Canada.
Guests of Marriott Hotels effortlessly blend work and play in a mobile and global world. They seek style and substance, and consider technology to be a central part of their lifestyle. Marriott Hotels, which recently launched its Travel Brilliantly campaign, is committed to introducing innovations that will enable the next generation to travel brilliantly. The campaign engages guests to join with the brand in its journey to co-create the future of travel together. View current Marriott innovations and submit your own ideas at www.travelbrilliantly.com.
Mobile check-in joins a list of innovations from Marriott Hotels. These include lobby Greatrooms that create a seamless experience merging modern, stylish design and comfort, with greater access to food and beverage, and technology where guests are welcomed to relax, recharge or chill. Inspired by people, Marriott is imagining the future of meetings with concepts such as Workspring at Marriott, catering to smaller meetings, Workspace on Demand that makes it as easy to book workspace as a hotel room, and the Red Coat Direct app which enables meeting organizers to adjust and edit their meeting requests and preferences with the touch of a button and without ever leaving the meeting room.