Centara Hotels & Resorts will be opening a new five-star Grand branded hotel in Pattaya in the third quarter of this year, and promises to unveil a design that in creativity and innovation is unlike anything else in the ocean resort. Centara Grand Phratamnak Resort Pattaya will be the third Centara Grand in Pattaya, with a fourth under construction, and all are startlingly different from each other.
Set amongst the high-end residential addresses of Pattaya's Phratamnak Hill, with the beach only a few steps away, the hotel is designed to complement this exclusive neighbourhood. Marble and granite clad the public areas, the lobby furniture is all Fendi, and fabrics and furnishings used in the guestrooms are of the highest quality.
Centara, along with the Tulip Group who own the hotel, and designers Model 1to1 Co and Gooodlux Design Consultants have created a ground floor that is dominated by an underwater world, with a giant aquarium in which live diverse forms of exotic and colourful marine life, and flowing naturally from this ocean kingdom is a shimmering world of translucent light.
Lighting design director Sirisak Pituck says that light, glass and water are used in conjunction with fibre optics to create a mood in which land and water fuse into one element.
"The ceiling is glass, the walls are glass, the elevators are glass, and everything flows from and with the water," he says.
General manager of the hotel Dominique Ronge says that Phratamnak Hill is unlike any other part of Pattaya.
"This district is the premier address in the city," he says. "Residences here are very expensive villas and condominiums. On top of the hill at Wat Phra Yai is the biggest Buddha image in Chonburi province, visible from miles away. This is a very exclusive place.
"We wanted to create a hotel that did more than attract the guests, we wanted to build something that the residents themselves were proud of. We wanted a stunning design, a living piece of art, but at the same time we wanted unashamed quality, which is why so much effort and investment has gone into the smallest details of the rooms, right down to the fine linen sheets and the Jim Thompson pillow cases."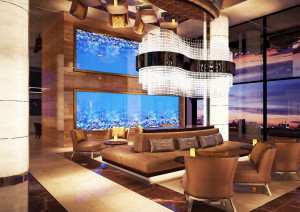 Only eight storeys in height, the hotel blends in with the varied skyline of the hillside district, and is designed in two wings with a central courtyard. Original artworks provide vivid splashes of colour and texture along the walls, and blown glass has been used for the lights and the sculptures.
A chic city-resort style hotel with 165 rooms and suites the hotel will also be family-friendly, the accommodation including Family Residence units with a king-bed master bedroom and a separate children's area with bunk beds. Guests staying in selected rooms and suites will enjoy added privileges in the exclusive environment of the Club Lounge.
The all-day dining restaurant, Oceana, will offer a modern setting along with an international and Thai menu, with the accent on in-season local produce and open kitchens that offer a glimpse of the action. There will be a fine dining steak house with a wide selection of wines, a bakery named Espresso will offer freshly baked breads and cakes, and on the rooftop and featuring spectacular ocean views will be an Italian restaurant and bar named Altezza.
Among the leisure facilities are a rooftop pool and a fitness centre. The resort will feature two meeting rooms and there is also a delegates' bar that provides a perfect setting for coffee breaks. Set directly on the beach is the hotel's own Beach Club, a place to chill out and enjoy fresh juices, coffee, snacks and light meals, and a selection of beers, wines and cocktails. On the second and third floors of the Beach Club is Spa Cenvaree, with tranquil ocean views and a menu of individual treatments and spa journeys.
Centara's first hotel to open in Pattaya was Centara Grand Mirage Beach Resort Pattaya, set on the beach at Wong Amat in North Pattaya. In Naklua, and also on Wong Amat Beach, adjacent to the Sanctuary of Truth, is the newly opened Centara Grand Modus Resort & Spa Pattaya. The fourth Centara Grand will be at Jomtien Beach, and is still under construction. The group also has two properties in Central Pattaya, namely the four-star Centara Hotel Pattaya and the Centara Nova Hotel & Spa Pattaya, which is part of the Centara Boutique Collection.