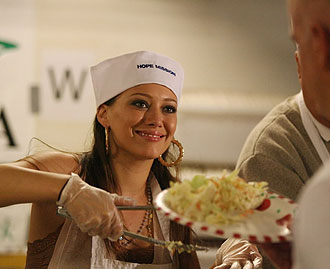 London hotels Hyatt Regency London – the Churchill and Andaz Liverpool Street will serve the city's homeless as part of a company CSR initiative.
Staff at the two properties will work with charities West London Mission (WLM) and Providence Row, local to the Churchill and Andaz Liverpool Street respectively, during the Hyatt Thrive Global Month of Community Service, to provide support and work experience for homeless people in the capital.
Providence Row clients will go through a recruitment process and for between four weeks and two months they will learn valuable catering experience at the Andaz property, and the hotel's chefs will host culinary workshops at the charity.
Pam Orchard, chief executive of Providence Row, commented: "By working with Andaz Liverpool Street we can offer our clients training opportunities to help them build a stable future. We see this as a vital way for clients to break the cycle of homelessness and have a safe, fulfilling life away from the streets."
The Churchill has teamed up with WLM to offer two of its clients work experience in stewarding, engineering and banqueting. They have both since been offered full time jobs. Meanwhile 20 of the hotel's staff have volunteered to help clean and redecorate WLM's centre in Islington and guests are being invited to donate £1 to the charity on their hotel bill.
John Deacon, Service Manager at the WLM's West London Day Centre, said: "The recent cold snap in London underlined the need for support for the homeless community in this area.
"Not only is the hotel helping to improve the environment of our day centre, but more importantly it is offering real opportunities for a number of people to develop skills and confidence that can help them move forward with their lives for the better."
The Hyatt Thrive Global Month of Community Service initiative is in its third year.
Source:catererandhotelkeeper.co.uk