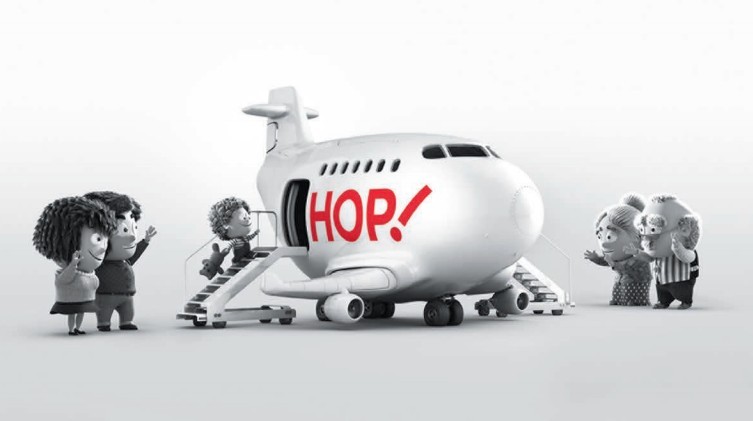 Starting on 31 March 2013, with 530 daily flights and a modern fleet of 98 aircraft with a seating capacity of between 48 and 100 seats, HOP! will serve 104 destinations with its own aircraft and crew and 32 destinations on behalf of Air France. This brand new airline is, therefore, one of the leading European regional airline companies.
The airline gives its customers access to a dense network, with numerous daily frequencies. Both on departure and arrival, a car-pooling service, presented on the www.hop.fr website, is available to facilitate travel to the airport.
Making a same-day round-trip to attend a meeting or enjoying a long weekend becomes a reality for all.
Thanks to an efficient flight schedule and a workforce of more than 3,000 men and women serving the needs of our customers, HOP! brings the regions closer together, in France and in Europe.
With three very different types of offer, HOP! meets the needs of those in search of the cheapest fares as well as business travellers who are used to the all-inclusive offer. To make their trip as easy as possible, whatever the fare paid, one free piece of cabin baggage is included in the fare and a free snack is available onboard.
• The Basic fare range offers easy travel all year round, with no checked baggage allowance, with fares starting at ¤55 including tax one-way*. Customers can purchase additional options, such as checked baggage or miles. Passengers who are used to the «Youth», «Senior» or «Family» fares will continue to benefit from all the same advantages in terms of flexibility by opting for the Basic offer.
• With the Basic Plus fare range, customers can access more services included in the price of the ticket.
• As for Maxi Flex fares, they offer total freedom of choice and the entire range of services. For each of these three offers, fares have been revised downwards, in order to offer all customers even more competitive fares.