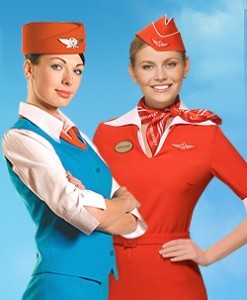 Aeroflot cabin crew uniform is voted the most stylish airline in Europe, reveals the survey organized by Scyscanner, a global travel search site. More than 1 200 air travellers rated Europe's leading airlines' uniforms on a scale of one to five.
The top prize was awarded to Aeroflot uniform introduced in 2010. Men's uniform is performed in dark-blue color both for winter and summer period. Women collection is designed in 2 colors – dark-blue for winter time and "red- tangerine" for summertime. All the details on the uniform are made in golden color, including the world-known Aeroflot emblem.
Now Aeroflot stewardesses' outfit alongside with coat and skirt includes an elegant dress, stylish cloak and wool topcoat. For a winter time Aeroflot flight attendants are provided with alaska coats (men) and winter-coats (women).
When talking about Aeroflot uniform, you should not forget about air company's crew shoes, made of high quality natural leather.
The uniform is designed and produced in full accordance with health and safety requirements. For example, all heels of women shoes are not higher than 4,5 centimeters. Aeroflot uniform is made from the latest generation fabrics and is perfectly suited for onboard use – antistatic clothes are also water and splash proof, this uniform doesn't crumple and provides comfort for the air crew both during winter and summer time.
Aeroflot uniform was created by famous Russian designers from Saint-Petersburg, Julia Bunakova and Evgeny Khokhlov. The uniform was made in Saint-Petersburg by "BTK Group" company.
Aeroflot management is paying much attention not only to the quality and usability of the uniform, but also to its beauty aspect. Talking about the uniform concept, Aeroflot CEO Vitaly Saveliev mentioned: "It was important for us to create a stylish, fashionable and modern uniform. This uniform should be recognizable and appeal to our passengers. In 2010 we were on the 8-th place among Scycsanner's most stylish air companies. And now we are at the lead in Europe. This fact proves that we have rightly set our priorities, and our uniform is definitely the best."