Airberlin flies to Hollywood
Starting today, airberlin will connect the German capital Berlin with the American city of Los Angeles on the west coast of the United States. The summer schedule features 3 weekly flights with an Airbus 330-200 from Berlin towards Hollywood. The inaugural flight was celebrated this morning in Terminal B at Berlin-Tegel. AB7022 took off with 191 passengers on board.
Airberlin CEO Hartmut Mehdorn said about the inaugural flight this morning at Berlin-Tegel: "Los Angeles is a major route expansion for our Berlin hub. Attractive destinations such as Los Angeles make our hub an engine of growth for airberlin, for tourism, and the economy." He added, "With this offer, we particularly want to attract connecting passengers from our German and European route network."
According to Dr. Till Bunse, Director of Marketing and Public Relations for Berlin Brandenburg Airport: "The capital region has gained another long-haul flight with the connection to Los Angeles. With airberlin's entry into the oneworld® alliance, the people of Berlin and Brandenburg have the opportunity for new nonstop flights all over the world and a further expansion of the routes offered."
Michael Müller, Mayor and Senator for Urban Development and Environment of Berlin, said on the occasion of Friday's inaugural flight: "I applaud airberlin's strong committment to Berlin. The flight to Los Angeles is currently the only direct connection from Berlin to the west coast of the United States and is, therefore, particularly important for the capital region."
From Los Angeles, airberlin passengers have a variety of codeshare connection options with oneworld partner American Airlines. In addition, year-round flights from Dusseldorf to Los Angeles will start this year and flight frequencies to Miami will be increased.
Airberlin is Germany's second largest airline. The company has a workforce of 9,200 employees. Each year, airberlin receives over 10 awards for service and quality. The fleet comprises 170 aircraft with an average age of 5 years, making it one of the most modern fleets in Europe. The airline's state-of-the-art jets are highly fuel efficient, which contributes toward a long-term reduction in pollution emissions from aircraft. As one of the major European airlines, airberlin flies to 162 destinations in 40 countries. In 2011, over 35 million passengers were transported. In December 2011, airberlin entered into a strategic partnership with Etihad Airways. Since March 20, 2012, airberlin has been a full member of the global airline alliance oneworld®. Airberlin operates codeshare flights with oneworld members American Airlines, British Airways, Finnair, Iberia, Royal Jordanian, S7 Airlines, and Japan Airlines.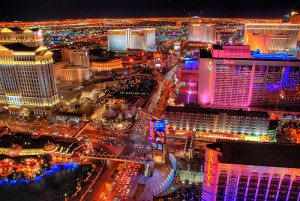 Airberlin flies to Las Vegas
By connecting the Rhineland city of Dusseldorf non-stop with Las Vegas twice-weekly as of 10th May 2012, airberlin is contributing further to making Dusseldorf the hub for North America. In order to celebrate the new connection airberlin, together with Dusseldorf International Airport and Las Vegas Convention and Visitors Authority, has extended an invitation to an opening ceremony on the eve of the inaugural flight at the Medienhafen in Dusseldorf.
During the celebrations for the inaugural flight in Dusseldorf Helmut Himmelreich, COO airberlin, said: "Joining the oneworld® airline alliance has afforded airberlin opportunities for growth both for its own portfolio of long-haul flights as well as for our hubs in Berlin, Dusseldorf and Vienna". "By adding the new route to Las Vegas as well as increasing the number of flights offered to North America we are sending out a clear signal that we are investing in the area of North-Rhine Westphalia and Dusseldorf Airport as platforms for future growth. Over recent years we have been developing our specialism for North America in Dusseldorf which is second to none and makes us the number one provider of flights to North America in this German State.
airberlin will also expand this specialism for North America in winter by flying for the first time from Dusseldorf to Los Angeles throughout the whole year and by adding further frequencies to its Dusseldorf-Miami service" added Helmut Himmelreich.
"We are very happy to be able, together with airberlin, to provide an additional appealing long-haul route from Dusseldorf. This decision makes it even clearer that our partner airline is also focusing on Dusseldorf as a thriving hub" according to Christoph Blume, spokesman for the management of Dusseldorf International Airport. "Las Vegas is airberlin's 15th long-haul destination from Dusseldorf. They therefore lead the way regarding intercontinental traffic, not only in terms of destinations but also frequency and are an important and reliable partner for us with regard to connecting the Rhine-Ruhr area with the world".
"We are pleased to welcome new non-stop air service from Dusseldorf, Germany," said Rossi Ralenkotter, President and CEO of the Las Vegas Convention and Visitors Authority. "This partnership with airberlin provides greater accessibility for German travelers and will serve as an important link for connections from other European cities."
Janice G Weiner, U.S. Consul General for the North-Rhine Westphalia area said: "I am certain that the new direct connection between Dusseldorf and Las Vegas will receive a lot of interest and corresponding enquiries from travellers wanting to get to know the city of Las Vegas and the surrounding magnificent countryside".
Guests of honour for the evening were the future bride and groom Yvonne Schröter and Denny Hienzsch who will also be on airberlin's inaugural flight to Las Vegas on 10th May. The young couple followed an invitation from airberlin and Las Vegas Convention and Visitors Authority on the airline's Facebook fan page and won a trip to Las Vegas with airberlin that includes the wedding ceremony. The couple from the Rhineland beat 68 couples wanting to get married with their romantic love story.
Flight AB7498/99 will be operated using an Airbus A330-200 every Thursday and Sunday from 10th May until 21st October 2012. The aircraft is in the new configuration of 279 seats in Economy Class and 20 seats in Business Class that airberlin has been gradually introducing on its Airbus long-haul fleet since last winter. Departure from Dusseldorf on both days is at 13:55, arriving in the capital of the U.S. State of Nevada at 16:15. The return flight from Las Vegas arrives in Dusseldorf at 13:30 the following day (all times are local). There are connecting flights from various German and European Cities. The arrival and departure times are especially ideal for passengers from the neighbouring Netherlands wishing to either travel out or return with ease.
With Fort Myers, Las Vegas, Los Angeles, Miami, New York, San Francisco and Vancouver, airberlin's network across North America includes seven destinations in total. During the summer of 2012 there are a total of 24 non-stop connections every week to all seven of airberlin's North American destinations from Dusseldorf.
As of 7th November 2012 airberlin will ensure good connections between Germany and the West Coast of the USA when it also starts flying during the winter non-stop from Dusseldorf to Los Angeles every Wednesday, Friday and Sunday. The existing non-stop flight from Dusseldorf to Miami will be increased to six weekly frequencies beginning this winter.