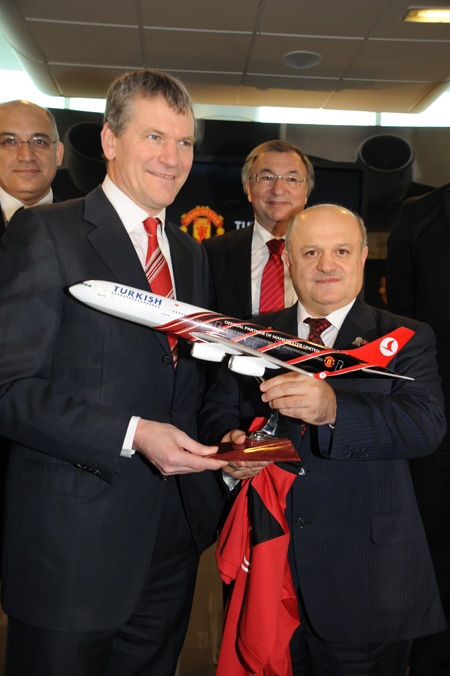 Turkish Airlines recently concluded a sponsorship agreement with Manchester United, one of the world's football giants.
United players Wayne Rooney, Edwin van der Sar, Nani, Ji Sung Park and Darren Fletcher were at Old Trafford alongside the Club's Chief Executive David Gill, Director of Commercial Richard Arnold, Turkish Airlines Chairman Hamdi Topcu, and Co-Chairman Cemal Şanlı to reveal details of the sponsorship.
The three-and-a-half year deal will see the airline's fleet livery carry the Manchester United crest as well as other iconic club and player imagery on the airline's fuselage.
Turkish Airlines will also have the right to shoot advertising films with the Manchester United footballers and take part in some PR activities with the players, as well as publicizing and advertising its sponsorship around the world. Turkish Airlines will transport the English team to camps and tournaments outside Britain. Turkish Airlines' Board Chairman Hamdi Topçu said that his company gave the utmost importance to the sponsorship agreement, pointing out that the cooperation would make a significant contribution to Turkish Airlines, which is well on its way to becoming a global trademark. Expressing the airline's great pleasure at being the official sponsor of England's top football team, Topçu added that the agreement would bring very important gains for both parties.