The 2014 edition of the Carnaval International de Victoria, baptised by the International Press as the Carnival of Carnivals will be officially launched this coming Friday the 25th April in Victoria, the capital of the Seychelles.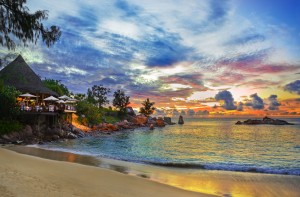 To help strengthen the tourism actions of cooperation and for the promotion in the Indian Ocean Region as a whole, the Vanilla Islands launched a list of events that today sit on the organisation's Calendar of Events.
The Sharjah Commerce and Tourism Development Authority hosted a successful East Coast familiarization trip on Monday (April 21) for more than 40 tourism industry professionals in order to familiarize them with the key tourist attractions and upcoming projects, ecotourism initiatives and life in general in cities of the East Coast that have been attracting large number of tourists.
Three hundred and fifty VIP guests attended the lavish opening party of the Outrigger Mauritius Resort and Spa in the Indian Ocean, 16 April. Guest of honor, the Mauritius Minister for Tourism, Mr Michael Sik Yuen, welcomed Outrigger and wished them well on the island.
Set to open on 1st September, Raffles Istanbul is at the heart of the Zorlu Center – a new hub for fashion, food and the arts on the European shore in Beşiktaş – overlooking the Bosphorus.
Jumeirah Group, the Dubai-based luxury hotel company and member of Dubai Holding, will be attending the Careers UAE 2014 fair to promote Jumeirah to the UAE's National high school graduates.
Transaero Airlines has completed the interior design of its Airbus A380s, currently the aircraft with the largest passenger capacity, which will join the airline's fleet in 2015.
Iberia and Samsung have joined forces to be able to offer the services of Iberia.mobi, including boarding passes, on Samsung's new mobile devices.
Starting on September 1st, Iberia will operate four weekly flights between Madrid and Uruguay. These flights connect with more than 37 European destinations and another 12 in Africa and the Middle East, via Madrid airport's T4.
Здесь обед на одну персону будет стоить 1500 евро или 2075 долларов. Эксклюзивный ресторан начнет работу 1 июня. Каждый вечер здесь будут принимать не более 12 гостей.
В России предполагается продажа пакетных туров на отдых в Крыму. По данным пресс-службы министерства курортов и туризма Крыма, в стоимость тура планируется включать перелет, переезды из аэропорта и проживание.
Глава тунисского правительства, Мехди Джомаа, призвал во вторник своих чиновников – не создавать чрезмерную полемику по поводу наступающей нормализации отношений с Израилем.
Правительство Италии собирается построить отель класса люкс на Повелье, бывшим чумным карантином, тюрьмой и психбольницей.
Знаменитый британец известен не только как суперагент, но и как символ элегантности и хорошего вкуса. Как сообщает euromag, номер-люкс в стиле «бондианы» выполнен в коричнево-золотистых тонах и по форме напоминает дуло пистолета.
Сборные по хоккею шести стран во время предстоящего чемпионата мира будут размещены в минском отеле "Ренессанс". Здесь будут размещены игроки из Словакии, Канады, Дании, Норвегии, Швеции и Чехии.
В честь 69-й годовщины победы в Великой Отечественной войне ОАО "Авиакомпания "Россия", входящая в группу компаний "Аэрофлот", с 24 апреля по 12 мая 2014 года (включительно) проводит традиционную акцию для ветеранов "По местам боевой славы".
Новый самолет Boeing 737–800 прилетел в Шереметьево в ночь с субботы на воскресенье, сообщает «Интерфакс» со ссылкой на представителя аэропорта.
Первый российский лоукостер «Добролет», дочерняя структура «Аэрофлота», будет базироваться и обслуживаться в терминале В аэропорта Шереметьево. Аэропорт Шереметьево сможет принять российский лоукостер только до конца 2014 года, так как после этого времени скорее всего будет снесен.